Its been a while since I last posted but I think everyone will understand :)
It seems 2011 has kicked off with quite a bang - so much is going on not only in my little household but around Australia. The devasation faced by so many has left me a little lost for words.
I was very pleased to do my own small bit by donating a bag to the
Possum Pouches
auctions as well as the proceeds of the sale of my bags as the
Gossamer Dreams
stocking in January. I doubled my money by donating the $95 through Woolworths as well which was great.
Here is a very dodgy picture of my receipt - did you know that documents are harder to photograph than bags? I would make a lousy spy wouldn't I?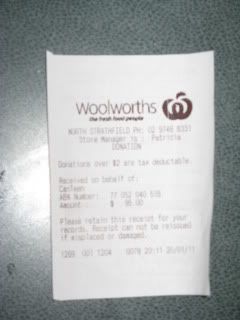 Another reason I have been a little quiet is that I have had quite a few custom orders to get done! I am really pleased that word is getting around about my bags and the service that I can offer. I completed a gorgeous bag for a very lovely customer just the other day - its on it way to her now so I can't show you the full bag but I can give you a sneek peak of the inner with my sexy new labels! Just in time for me to use on the new bags I am getting prepared to re-stock the Facebook store!
What else is keeping me occupied? Hmm - My eldest starts school in a few weeks, my youngest is getting her first tooth, standing and cruising the furniture and has started at Childcare and my terror of a middle daughter has started preschool and decided she must learn how to read 'right now'... and of course I go back to work as well... no rest for the very very wicked I always say!