I very pleased to be a guest WAHM at this month's
Gossamer Dreams
stocking. I must not have offended anyone last month which is great news!
This month's theme has been announced and it is Zen. It has been really interesting to see a few sneak peaks pop up on the GD
blog
and see all the different interpretations of this. Japanese fabric, japanese inspired fabric - all the different ideas should mean there is something for everyone!
I have a quick sneak peak of my contribution to share. Not the best photos as it has been dull and overcast here - though I am pretty sure that if you have read my blog in the past you will know I always find an excuse for my poor photos...
Anyhow - now that my excuses have been made here is a quick pic. This one is a gorgeous set for a lucky Mama.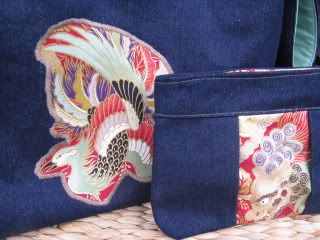 Previews will be up on the Gossamer Dreams site in the morning of the 15th with all the items going live in the evening. Check the GD site for details as I am sure I will stuff up the time zone conversion ( my past life as a navigator has not helped me with this important life skill!)
I have also been working on a few custom bags - some gorgeous Laura Gunn themed pleated sling bags (my new pattern) and something for the boys... ( oh how hard it is to think boy!)
The 20% off sale on instock bags ends tonight and there are only a few bags left - snap up a bargain or email me on
howieandcharlie@gmail.com
to get your own custom bag!