I hope everyone has had a great start to 2011 - floods and miserable weather not withstanding. I hope everyone affected by the floods starts to see some sunshine and a better outlook very soon.
I am have been very busy over the silly season testing out some new patterns and sewing up a storm.
Lots of skirts and tops and things for the girls but of course a few more bags to add to the store as well as some more custom work.
Here is a picture of my latest bag - this one is my favorite - fiery red cord and orange and red quilters cotton makes for a very striking bag! This latest pattern has lots of options and makes for a very versatile bag.
The bag below is another pattern that I use from time to time - this was a custom bag for a very lovely customer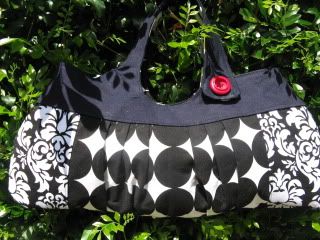 And another pattern that was purchased by a wonderful friend.
I have added a few more bags to the store and the discount is still in place. Please send me a message if there is something you would like or something else you would like to see and I'll do my best to make it happen - I am always happy to take on customs!